frequently asked question
We provide an Arrive Alive Guarantee for every order, ensuring that your Betta fish arrives healthy and alive. In the unlikely event of your Betta fish arriving DOA (dead on arrival), kindly contact us within 12 hours of delivery, accompanied by clear photographs of the fish in the original shipping bag, without opening the bag. More information.
Every Betta fish will be shipped directly from Thailand to your doorstep using our reliable international shipping service, with with a processing time of 5-7 Days and a shipping time of 5-7 days.
Betta fish are known for their hardiness, but their survival during shipping depends on various factors such as distance, packaging, and shipping conditions. Typically, Betta fish can survive for up to 7 Days during shipping. but this is not a guaranteed timeframe.
At our company, we take great care in shipping our Betta fish to ensure their health and safety during transport. To maintain a stable temperature, we include heat packs in the packaging that will keep the fish at a comfortable temperature throughout the shipment. We also provide the Betta fish with sufficient water and food in the bag to keep them healthy and nourished during transportation. Once your fish arrives at our US inland location, we also make sure to feed and care for it before repackaging and sending it to the postal service. Our goal is to provide you with healthy and happy fish that arrive at your doorstep in top condition.
As buying a live animal is considered a commitment, we do not allow returns on any live Betta fish. Additionally, all cancellations are subject to a 10% restocking fee. Once an order has shipped, it cannot be canceled.
Many people believe that Betta fish do not need a lot of space, but this is actually a misconception. In reality, Betta fish are active and enjoy swimming. Therefore, it is recommended that they be kept in a minimum tank size of 5 to 10 gallons.
The lifespan of Betta fish in captivity ranges from 2 to 4 years, and several factors affect their longevity. Nonetheless, maintaining a healthy tank environment for your pet can certainly contribute to a longer and healthier life for your Betta fish.
It's essential to maintain a balanced diet for your Betta fish, as they enjoy eating a wide variety of food. By offering your fish a diverse and well-balanced diet, you can help to ensure that they remain healthy and happy.
Betta fish have a varied diet and enjoy eating a range of foods, such as Betta pellets, blood worms, daphnia, brine shrimp, and mysis shrimp. These foods can be offered as either live or frozen options.
When using frozen food, avoid defrosting it with hot water, as this can cook the food and damage its nutritional value. Freeze-dried food is also an option, but should only be given as a treat, as overfeeding can lead to bloat and other health issues for Betta fish.
When it comes to keeping Betta fish with other community fish, there are no guarantees of compatibility. Betta fish can be aggressive towards other fish due to their territorial nature, even if the tank is large enough. Therefore, it is essential to introduce new tank mates gradually and with care.
Platies, female Guppies, and Corys are some of the peaceful community fish that can coexist with Betta fish in a large enough tank. However, it is worth noting that the compatibility of tank mates may vary depending on the individual temperament of the Betta fish, and this list is not exhaustive.
Betta fish are native to the tropical regions of south east asian and require warm water temperatures between 78-82F degrees for optimal health. Although they can survive in lower temperatures, they become more vulnerable to illnesses and may exhibit signs of lethargy. If you reside in a warm climate where the temperature is consistently above 78F, you may not need to use a heater throughout the year. However, during winter months, it's essential to add a heater to your Betta fish tank if the temperature fluctuates in your home.
Using a filter in a Betta tank is highly recommended as it reduces the need for frequent water changes and ensures a healthier environment for your fish. However, it's essential to monitor the water flow as Bettas prefer calm water and may struggle to swim in fast-flowing water. In worst cases, a strong filter can even pull the Betta onto the intake tube, leading to drowning. Therefore, it's crucial to choose a suitable filter that is safe for your Betta fish.
Sponge filters are an excellent choice for Betta fish tanks as the flow can be adjusted to their needs. Not using a filter requires a significant commitment as you'll need to perform more frequent water changes to prevent the water from becoming toxic. The water in a Betta tank can become toxic within 48 hours of being changed, which can pose a serious threat to your fish's health.
The frequency of tank cleaning depends on the tank's size and whether it is equipped with a filter. Tanks with a capacity of less than 2.5 gallons and without a filter should be avoided, as a minimum of 5 gallons is recommended. Such tanks require cleaning  to four times a week, with 80-100% water change. If the tank has a filter, it should be cleaned weekly, with 25-30% water change and substrate vacuuming. It is crucial to clean the filter once a month using aquarium water to prevent killing the beneficial bacteria that has accumulated in it. Tank maintenance may vary depending on the number of fish and live plants in the tank, but generally, weekly water changes are recommended.
If a filter is not in use, there is no cycling to be done. The cycling process involves the development of beneficial bacteria, which primarily occurs in the filter, but can also happen in the gravel and on aquarium decorations. Fishless cycling is possible, and it requires careful attention and patience. Rushing the process can lead to dead fish, so it's important to take the time required to cycle the tank properly. Generally, a tank will take 3-5 weeks to cycle correctly, and regular small water changes can aid in the cycling process. It's important to note that once the tank is cycled, adding a significant number of fish can cause the tank to become imbalanced, resulting in the need to restart the cycling process. Regular water testing is necessary to maintain a healthy tank.
Although male and female betta fish can live together under specific circumstances, it is generally not advisable to pair them. For beginners, it is acceptable to keep them in the same tank only for breeding purposes.
Before attempting to pair male and female betta fish for life, it is essential to become familiar with proper methods of cohabitation to prevent any issues. Providing a long tank with a minimum size of 40-gallons can help the female stay away from the male and reduce aggression between them.
However, it is crucial to monitor their behavior closely and be prepared to separate them if necessary, as male and female betta fish can still exhibit territorial and aggressive behavior towards each other even in a larger tank.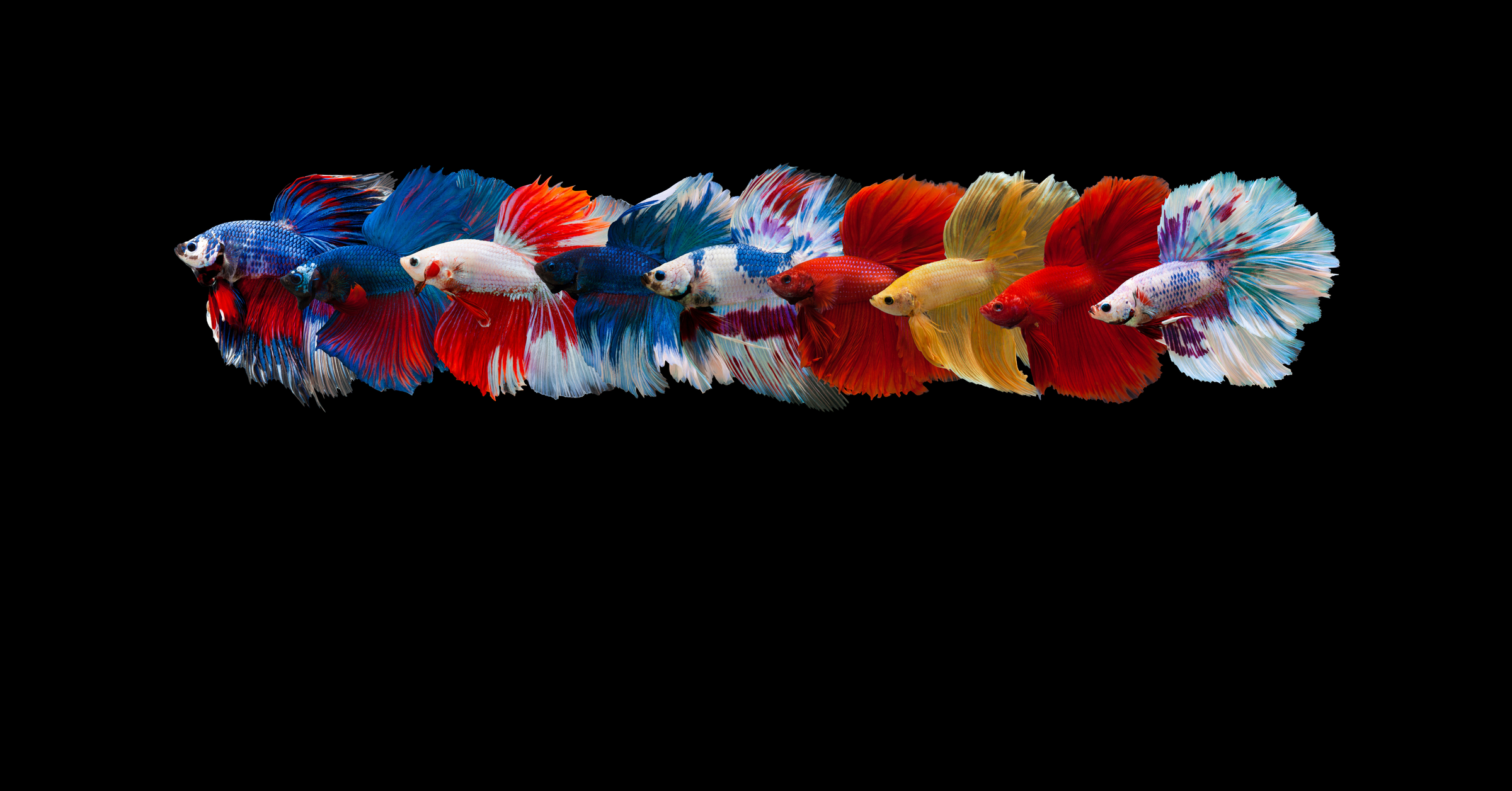 We work tirelessly for 30 years to uphold the high standards set by our Thai ancestors and fellow breeders, ensuring that each and every Betta Fish we produce is of the highest quality and meets the expectations of our customers. When you buy from us, you're not just purchasing a beautiful and captivating pet. You're also becoming a part of a long and rich history, and joining a community of people who appreciate and value the beauty and wonder of these amazing fish.